Portable Meter EC-20 pH • EC 25 pH

Funktionen im Überblick

EC-20 pH • EC-25 pH

• Display of pH/mV and temperature
  Parameter simultaneously
• Selectable resolution: 0.1/0.01 pH
• Automatic calibration up to 3 points
  (2 Standard pH-Puffer Sets)
• Manual calibration up to 2 points
  (user-defined pH-Puffer)
• DHS-function, automatic recognition
  of DHS- and analog electrodes
• Stability parameter (Low-Med-High)
  for high accuracy measurements
• Large Display (backlit on EC-25)
  with indication of calibration buffers
  and measurements stability
• Waterproof IP57-protection
• Sturdy carrying case with all accessories
  to be used as a small portable lab
EC-25 pH

... additional for EC-25 pH

• 3 color backlit display
• GLP
• CAL DUE: set of calibration frequency
  for high quality of measurements
• Data logger (automatic or manual)
  500 data sets with date and time
• USB port to transfer Data and
  ower by Computer or
  power-supply (included)
• Software PC-Link to download data (included)
• Memory with re-call of last calibration
  and information about electrode life
  Date and time
Portable Meter EC-20 pH • EC-25 pH

An elegant and ergonomic case, with a practical soft rubber and IP57 protection, contains the best of technology. A large display (3-color backlit for EC-25pH) shows all information that you need.

All the functional parameters of connected electrode, during measurement or calibration, are constantly checked and inform the operator for easy trouble-shooting. The new DHS-technology allows the use of digital as well as analog electrodes. Only 4 keys (6 for EC-25pH) allow the user to control all functions in an intuitive and easy way.


Technical Data

Measuring Range (pH)
Resolution (pH)
Buffer solution

Calibration points
Buffer recognition
Measuring Range (mV)
Resolution (mV)
Measuring Range (°C)
Resolution (°C)
DHS-Electrode
Memory
Timer
GLP
Interface
IP-Class
Power
Weight (g)
Dimension (mm)

EC-20 pH

0...14
0,1/0,01
1...3 /USA, NIST, DIN, User
1...3
yes
± 1.000
1
0...100,0
± 0,5
Yes
No
No
No
No
LCD
IP 57
Battery 295
86 x 196 x 33
(WxDxH)
EC-25 pH

-2...16
0,1/0,01
1...3 /USA, NIST,
DIN, User
1...3
yes
-1.000 ...+1.900
0,1 (± 200) / 1
-10...110
± 0,5
Yes
500 Data
Yes
Yes
USB
LCD-Display, 3-color backlit
IP 57
Battery, via USB
300 86 x 196 x 33
(WxDxH)
Erhältliche Set-Varianten:

EC-20-pH-0
Kit without pH electrode, with temperature sensor inside and BNC, pH buffer solution, DHS-function, carrying case and accessories.

EC-20-pH-1
Kit included pH electrode201T, cable S7/BNC, temperature probe NT55, pH buffer solution, DHS-function, carrying case and accessories

EC-20-pH-5
Kit included pH electrode201T-DHS, cable S7/BNC, temperature probe NT55, pH buffer solution, DHS-function, carrying case and accessories


EC-25-pH-0
Kit without pH electrode, with temperature sensor and BNC, pH buffer solution, DHS-function, carrying case and accessories.

EC-25-pH-1
Kit included pH electrode201T, cable S7/BNC, temperature probe NT55, pH buffer solution,
DHS-function, carrying case and accessories

EC-25-pH-5
Kit included pH electrode201T-DHS, cable S7/BNC, temperature probe NT55, pH buffer solution, DHS-function, carrying case and accessories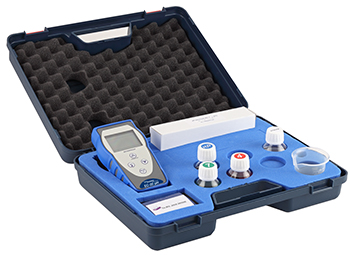 Set EC-20-pH-1



Downloads (PDF)

| | | |
| --- | --- | --- |
| | | |
| | Electrodes | Electrochemistry |